Leggett & Platt Designer Series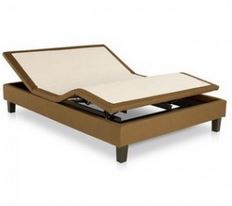 Life Happens Here
They say we spend nearly a third of our lives in bed. Dare we say you spend even more? To you, there's simply no better place to catch your favorite shows, chill out with great tunes, curl up with compelling reads, or fine-tune those reports.
Suit Your Style
That's what makes the Designer Series™ so perfect for you. Brought to you by Leggett & Platt® – where the innovative products come in a steady stream – these elegant and modern adjustable bases are completely customizable to suit your style. Just choose a color that best matches your contemporary décor: ivory, brown sugar, dolphin, or chocolate. Then rest assured that it's all available at a price you can feel very comfortable with.
Powerlift™ motor with 600 lbs. lifting capacity
full-range positions (head and foot)
4 stylish upholstery options with matching headboard available*
square-tapered wood furniture-style legs
backlit wireless remote
dual, variable-intensity massage with wave
programmable custom position
preset tv and zero-gravity positions (customizable)
one-touch "flat" button
Wallhugger® engineering
Warranty 1-5-Lifetime
Legget & Platt Simplicity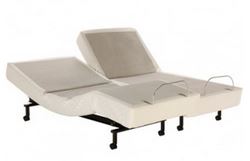 When you need to get better sleep, you owe it to yourself to buy the correct solution to your sleep difficulties.Whether you suffer from restless leg syndrome (RLS), acid reflux disease, snoring, or chronic night waking, an Silhouette adjustable power foundation adjustable power bed can be the cure for all your nighttime ills. With a new Simplicity power foundation, you have numerous tools available at your fingertips to fine-tune you sleep experience. This will allow you to perfect your sleeping environment and dial-away all you nighttime troubles.
The Simplicity is a perfect choice for those who value the massage feature and a wireless remote control over optional features available in an adjustable foundation. Transform your flat mattress to get more from your night AND day.
Offering the features that make your power foundation the center of your bedroom and a nighttime perk, Simplicity is a popular option.
With the massage feature and a few other premium aspects, Simplicity delivers on the power foundation promise to personalize your comfort.
Raise and Lower the head and foot sections to your desired comfort position. Adjust to a full 58 degrees at the head and 44 degrees at the foot.
Free-fall design is a safety feature allowing head and foot sections to lower by gravity only.
Wireless remote. Equipped with one therapeutic body massage.
Optional mobility is provided by twin wheel locking casters. Variable height selections are available to match existing luxury bed profiles.
Optional threaded glides allow you to manually adjust the height of your bed.
Warranty 1-2-LifetimeThe Silhouette adjustable power foundation by Leggett and Platt
Leggett & Platt Pro-motion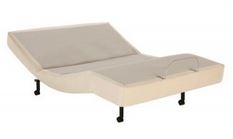 The Leggett & Platt Pro-motion is a perfect choice for those who value only the basic features of an adjustable foundation. Transform your flat mattress to get more from your night and day!
Whisper Quiet™ motor with 450 lbs. of lifting capacity
Virtually unlimited head and foot positions increase comfort, improve relaxation, help breathing and relieve stress on your lower back
Adjust to a full 58 degrees at the head and 44 degrees at the foot.
Free-fall design is a safety feature allowing head and foot sections to lower by gravity only
Bed can be lowered during power outage or remote failure
User-friendly with simple, easy to use buttons that control head and foot positions.
Hard-wired to the bed so it cannot get lost.
Adjustable headboard brackets are reinforced for stability and adjust to fit common headboard sizes
Powder coating provides best rust protection
Variable height adjustments easily match luxury bed frames
UL Listed
Warranty 1-2-Lifetime