The Contemporary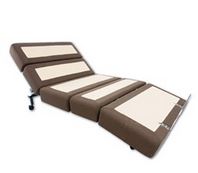 Adj Rize Contemporary-2TThe Contemporary is the most advanced adjustable base ever developed. It's contemporary modular base design combines the ultimate in function & fashion with an advanced frame that is ergonomically superior to respond to your body's natural mobility.The head and foot are fully adjustable with the wireless hand remote with the wall-glider feature keeping you close to your night stand. The addition of the exclusive Lounge Feature lets you lower the legs comfortably to a seated lounge position for greater customization than ever before! The optional exclusive Lumbar Feature allows you to adjust the firmness to your lower back that reduces back pain and pressure like no other! The pre-programmed memory position buttons allow you to easily position yourself to today's most common positions at a push of a button. The advanced dual massage provides added relaxation with pre-programmed features so you can customize your massage from gently soothing to an invigorating stimulation that improves circulation while reducing stress & tension.
The Auto-Synch button makes it simple to synchronize two bases to work together for King size mattress use. To complete the package, LED Underbed lighting fixtures allow you to have a glowing Night Light to help you safely navigate easily in the middle of the night to assure your new Rize® Contemporary sleep system has everything you could imagine making it the ultimate Dream Machine! The Contemporary is luxury at it's finest that will convert your ordinary bedroom into the most desirable sleep sanctuary.
The Relaxer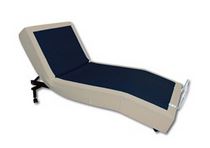 The Relaxer electric adjustable bed base by Rize is a wonderfully designed bed. Not only is the foot and head adjustable with the wireless remote, but the relaxer position allows your legs to be lowered for the most comfortable reclining position. With 3 pre-set memory positions, a one touch auto flat feature, a 2-zone dual body massager, and backlit function keys, the wireless remote that comes included with this bed base allows for total control and customization of your sleep. The standard frame design and traditional foundation design work together with the steel leg balanced stability supports and the patent pending Gravity Release Safety System to give the bed added strength and support.
The Classic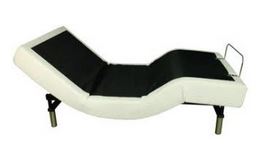 The Classic adjustable bed base by Rize is a superbly designed bed. With a fully electric design, the hard wired hand remote and two quiet, but powerful, lift motors allow for easy adjusting of the head and foot components of the bed. The standard frame design and traditional foundation design help to ensure that this adjustable bed base will work with most mattresses, but it?s always good to double check to make sure your mattress is compatible. Steel leg balanced stability supports with locking rolling casters and a patent pending Gravity Release Safety System give the bed added strength and support. This bed has been independently tested for quality and safety by Intertek and has received ETL Certification. For peace of mind, Rize includes a 20 year warranty with this adjustable bed base. Customatic Design.