Malouf Travel Neck Gel Dough Memory Foam Pillow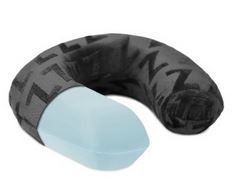 This U shaped pillow is ideal for travelers. The Gel Dough® travel pillow brings a cooling comfort to the stresses of travelling. The orthopedic design and our unique Dough® formula creates a soft yet supportive memory foam to keep your neck properly supported. The GelTM infused into the travel pillow will optimize your temperature. This pillow was created using open-cell technology to maximize durability and resiliency. The foam is antimicrobial and resistant to allergens and dust mites.
The super soft cover is made from bamboo velour and is removable for easy washing. We back this product with a 5-year warranty that covers all manufacturer defects.
Orthopedic design correctly support the natural curves of you head, neck, and shoulders
Open cell technology yields maximum resiliency and longevity
Gel Dough® brings a cooling comfort to the stresses of travelling
Luxuriously soft, removable bamboo velour cover
5-year warranty